Article by: Mitchell Parker
Storage is on everyone's mind when creating a kitchen. But when smartly planned, storage can do a lot more than store your dishes, cookware and food. A multipurpose storage wall can free up room for an airier design that allows for a large island with plenty of work and eating space. These three kitchens show how it's done.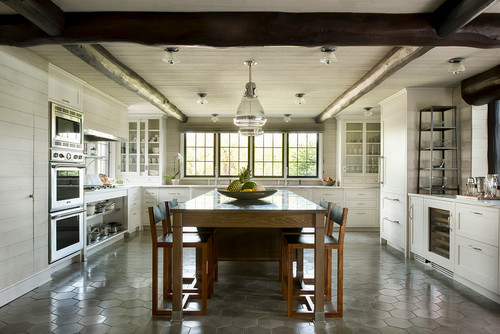 1. Rustic and Roomy
Designers: Jean Rehkamp Larson and Amanda Kay of Rehkamp Larson Architects
Location: Deerwood, Minnesota
Size: 325 square feet (30.2 square meters)
Year built: 2015
Homeowners' request: A generous kitchen with room for multiple generations to cook and socialize when they're not out on the lake, where they take out their boat, swim, read books and have campfires in the evening. "This family wanted the space to feel hearty and laid-back with a nod to vintage log cabins, but still be light-filled and elegant," architect Jean Rehkamp Larson says.
Special feature: The integrated wall of storage, seen here on the left, includes a pantry, wall ovens and a range. "In a kitchen with lots of windows and few upper cabinets, a walk-in pantry answers the storage question," Rehkamp Larson says. "We chose to make the pantry door and range hood disappear in order to let the symmetrical composition of windows, sinks and cabinetry be the focus and draw us into the space."
Designer secret: Keeping the palette of colors simple. "This allows us to experience the whole space as an elegant, unified composition and leaves visual space to add elements such as unique light fixtures, glass cabinet doors, custom stainless steel-wrapped legs and an open metal dish rack," Rehkamp Larson says. "Also, consider using small surface-mount light fixtures instead of recessed cans — it animates the ceiling."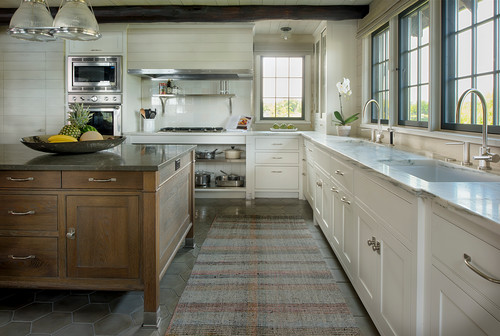 Splurges and savings: "Plumbing fixtures were kept simple," Rehkamp Larson says. "We splurged on hiring an artisan to create and apply a custom finish for the wood walls and ceiling. It is, satisfyingly, both rustic and refined."
The nitty-gritty: Floor tile: Medina pewter hexagon, Exquisite Surfaces; walls and ceilings: pine boards with resawn texture and custom white finish; ceiling trim: log with custom stain finish; cabinetry: custom; cabinet paint: Strong White, Farrow & Ball; countertop: Olympian White Danby marble with honed finish; island cabinetry: custom plain-sawn white oak with custom finish; island countertop: Lagos Blue limestone with honed finish; cabinet hardware: Ashley Norton with white bronze finish; sink: Shaw's Original, Rohl; sink faucet: Tara in platinum matte finish, Dornbracht; lighting: Punch flush-mounts in polished nickel with bronze accents, The Urban Electric Co.; pendant: Double Prismatic Industrial, Urban Archaeology; rug: Aubry Angelo, Minneapolis (to the trade only); counter stools: custom-made locally
Team: Nor-Son (contractor); Alecia Stevens (interior designer); Bunkers & Associates (structural engineer); Frost Cabinets Furniture & Design (custom cabinetry); Otto Painting Design (custom wall and ceiling finishes); Bo Jacobsson (custom metalwork); Scott Amundson Photography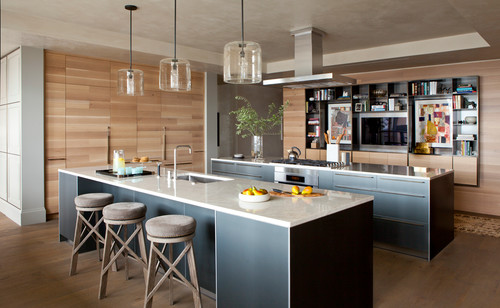 2. Contemporary and Comfortable
Designers: Pam Chandler and Patrick Ousey of FAB Architecture
Location: Austin, Texas
Size: 480 square feet (44.6 square meters), 20 by 24 feet (6 by 7.3 meters)
Year built: 2014
Homeowners' request: Turn four 30th-floor penthouse units into one single unit with a centralized kitchen.
Special features: A custom burnished brass shelving unit helps conceal a TV while providing display space. White oak wall cabinets hold a full-size refrigerator and freezer on one side of the work islands, and ovens, a microwave and a coffeemaker on the other. Both sides feature pullout pantries and central workspaces concealed by retractable doors.
Why the design works: The burnished-brass shelving unit brings an opportunity for decor in an otherwise utilitarian space, while the quarter-sawn white oak walls give an ease and warmth to the space. Seating on the back sides of both islands creates a hub for gathering.
Who uses it: Active empty nesters who split their time between Texas and Wisconsin.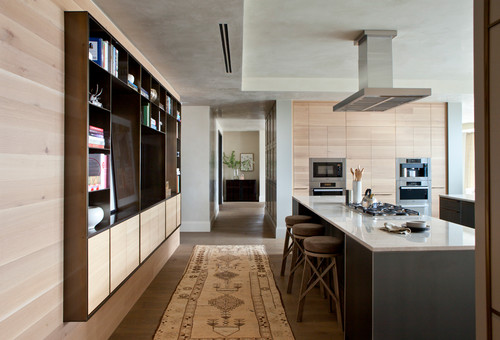 "Uh-oh" moment: Architects Pam Chandler and Patrick Ousey had to transform four penthouse units into one single unit. But the building's mechanical systems were existing, and the plumbing locations had to be reused to not disturb the condo owners below. The kitchen is where two adjacent master bathrooms were once located. "It was like a huge puzzle," Ousey says. "At every turn we were faced with an existing condition that needed to be addressed, either deciding to reuse, cap off or relocate as needed."
The nitty-gritty: Countertops: 3-centimeter Taj Mahal quartzite with polished finish, Architectural Tile and Stone; Venetian plaster: Sloan Montgomery Finishes; wall cabinetry: custom, white oak; island cabinets: gunmetal-gray aluminum, Bulthaup
Team: Fern Santini (interior designer); David and Kathy Escobedo of Escobedo Construction (builders); Nick Johnson Interiors (photographer)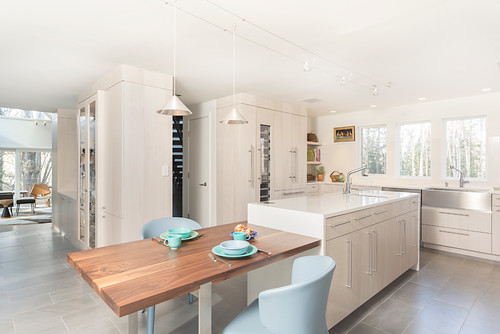 3. Modern and Multifunctional
Designer: Donald Billinkoff of Billinkoff Architecture
Location: Amenia, New York
Size: 300 square feet (about 28 square meters); 20 feet by 14 feet, 8 inches (6 by 4.4 meters)
Year built: 2015
Homeowners' request: The kitchen was part of a complete reconstruction of the existing 1980s house. The original layout consisted of small discrete rooms that the homeowners wanted to open up to one another and the surrounding landscape.
Special feature: Built-in refrigerators and wine coolers in custom wood-veneer cabinetry, plus a separate wall of cabinets and glass-front case for dishes.
Plan of attack: Moving the original laundry room to another part of the house allowed architect Donald Billinkoff to open up the kitchen to make room for a large island with an interlocking custom walnut breakfast table. New windows increased natural light. ray porcelain tile floors connect all the spaces throughout the house.
Who uses it: semiretired New York City couple, who use the house on weekends and throughout the summer.
"Uh-oh" moment: "The 'uh-oh' moment was probably at the point the homeowners determined that tearing the house down and building new would likely cost the same or less than renovating," Billinkoff says. "In the end however, the owners decided that given their long history with the house, they would experience greater satisfaction giving the house new life."
Nitty-gritty: Appliances: Thermador; flooring: porcelain tile, Uneik; countertops: Chroma quartz; cabinets: wood veneer, Tabu; faucets: Hansgrohe; sinks: Lavello; seating: Poltrona Frau; paint: White Heron, Benjamin Moore
Team: Judith Melinger Design (interior designer); Chris Colomello of Ducillo Construction (general construction); Edi Silva of Silva Woodworking (cabinetmaker); Jason Buchta of Metalcraft (metalwork)