Article by: Mitchell Parker
Tom and Jamie Pumpelly's four dogs like to get dirty. A lot. The couple and their dogs — two blonde Labs, a bichon and a rat terrier–Chihuahua mix — live on acreage along the Occoquan and Potomac Rivers in northern Virginia, and the dogs are always showing up at the side entrance wet and muddy.
So during an extensive remodel of their home, the couple incorporated plenty of functional space for washing and drying their animals, and for containing them when guests arrive. Using a former bedroom suite vacated once their kids moved away from home, the couple worked with Leroy Johnson of Four Brothers to create a dog-washing station, laundry room, mudroom and dog-bed area.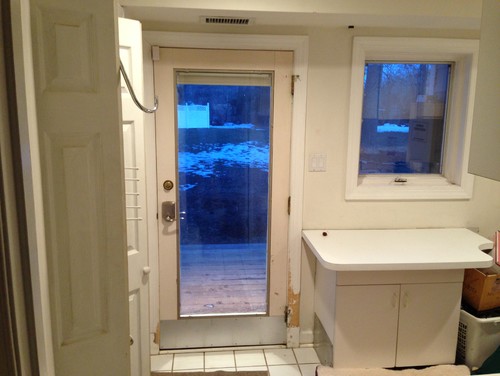 BEFORE: The side entrance and laundry area had previously become run-down over time and needed new storage and flooring.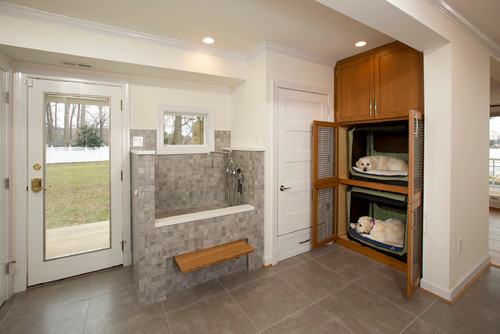 AFTER: Johnson helped reconfigure the poorly laid-out space, adding a dog shower and custom cabinetry that includes a doggie bunk bed for Levon and Lucy. At three years old, the dogs are sprightly enough to jump into the top bunk; the spot goes to whichever leaps in first.
The doors don't lock and can be easily pushed open from inside. The cabinets are cherrywood that's extra thick to take into account the constant bumping from the big dogs.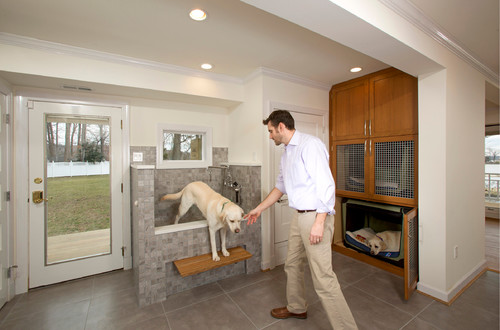 A mosaic tile shower pan allowed a sloping design for drainage, and Johnson carried the material to the rest of the shower. A teak bench lets the dogs get into and out of the hard tile pan more easily and provides a place where someone can kneel while washing the dogs. The ledge is quartz.
The Pumpellys' son, Stuart, who is a project manager at Four Brothers, is shown here.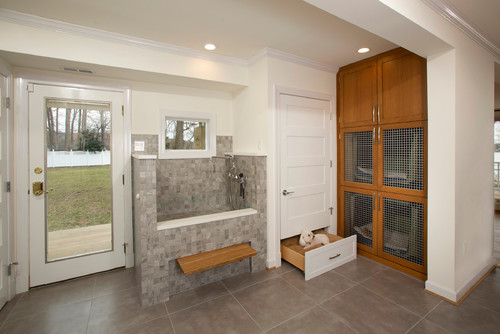 Johnson cut into a regular interior door to create a trundle bed on four casters that rolls out for the smaller dogs. Maddie is seen here. He opted not to do a drawer for fear of wear and tear to the slides. And the casters allow the homeowners to roll the bed elsewhere as needed.
And no, they don't close the bed when the dogs are on it.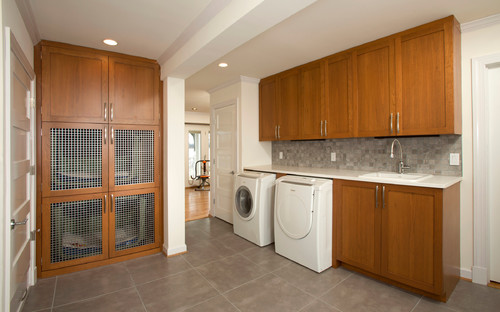 A new laundry area with a quartz counter helps make quick work of washing muddy clothes and folding clean ones.