The American "farmhouse bathroom" is a bit of an oxymoron. Most original farmhouses were built at a time when the only bathroom was an outhouse. And when farmhouse owners did eventually bring plumbing inside, they didn't actually build a bathroom; they took over a spare bedroom or other room and put a toilet, sink and stand alone tub in the space. This focus on practicality and function continues to drive the style's popularity today.
Here are eight elements of a modern-day bath with farmhouse style.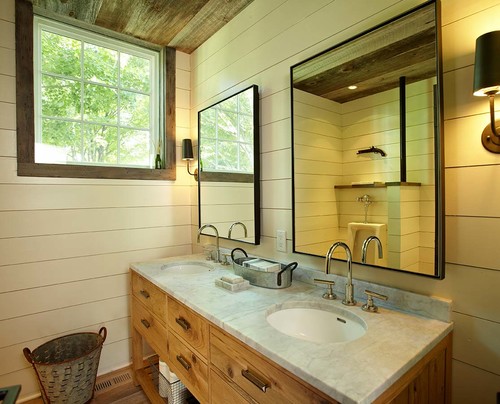 Article by: Mitchell Parker
1. Make it look like a spare room. Again, think back to the time when farmhouse owners switched from an outhouse to an indoor bathroom: Most people ran their new plumbing into a spare bedroom or an attic space. So the new bathrooms were generally spacious and had odd ceiling angles. Plus, it meant that the orientation of the bathtub, sink and toilet didn't always line up like you see today. Following this approach is a good first step to nailing the style.

Architect James Dixon used the spare-room concept with this New York bathroom, which is actually part of a newly built home. He intentionally made the ceiling pitch down at odd angles to make it feel like the bathtub, sink and toilet were plunked down in an old attic space or extra bedroom. "I live in an 18th-century farmhouse that was once a lot of small bedrooms. Some were converted to bathrooms," he says. "They tend to be very quirky, so making a new bathroom look this way makes them look more believable."

Painted antique wood flooring helps convey the style as well.
2. Minimal accessories. "To me a farmhouse is kind of the simplest early house built for practical reasons," says interior designer Alison Kandler. "You built a porch because sitting outside in Oklahoma was hot. You picked hexagon tile because it was cheap and practical. You built a pitched roof so rain would fall off and you wouldn't get leaks. There was always a practical side to everything. It's not ornate. It's not overdecorated."
Indeed, most of the people who built farmhouses were interested only in providing four walls and a roof over their head. They didn't have the time, interest or cash to focus on ornament or details in the wood or construction, so they just kept it simple. Make sure your farmhouse bathroom champions function and repurposing, rather than ornament.
3. Stand-alone bathtub. A claw-foot tub is almost a requirement in a farmhouse bathroom. It's what you would have seen in original farmhouses when built-ins weren't around or practical.
Of course, when we talk about farmhouse style, we're actually talking about modern farmhouse style. "And that's a good thing," says interior designer Kelly Mittleman, who channeled farmhouse style in the bathroom seen here. "You don't want to replicate the rusticity of yesteryear and have it look clunky or silly like a set piece."
And farmhouses differ around the world and even regionally in the United States. A New England farmhouse from the 18th century looks and feels different than something in the Midwest, for example. But the general spirit is universal. "When most people think of a farmhouse, they think of simple, no-nonsense details and sturdy construction," says Dixon.
4. Repurposed furniture. In the early days, when spare rooms were converted into bathrooms, it wasn't like farmers loaded up the family in the minivan and hit up the local home design store to furnish their new space. Typically, they dragged in whatever storage pieces weren't being used elsewhere in the house. So repurposed dressers and storage cabinets are good candidates for a farmhouse-style bathroom. "A vanity that has a cabinet under the counter immediately starts to look like less of something you would find in a farmhouse," Dixon says. "If you've got a nice old dresser, stick that in the room and fill it with towels and toiletries. It helps that feeling of the bathroom looking like it was a small converted bedroom."
"Repurposing an old first-aid kit as a medicine cabinet, using reclaimed wood for a vanity, vintage lights — it all helps create that style," says interior designer Kress Jack.

In the bathroom here, interior designer Charlotte Cooney of Domestic Arts and her partner, Kevin Fischer of Alice Design, brought in their client's vintage kitchen storage cabinet to complete the look. V-groove pine paneling on the walls gives it a "cozy, homey farmhouse" feel, Cooney says. "It makes it seem like walls that could be in a barn."

To make the paneling look like it had been left outside and bleached in the sun, she covered it with a watered-down white paint and a flat polyurethane finish. Meanwhile, the homeowner had found a bunch of old radiators in the backyard and wanted to incorporate those into the interiors. Cooney had them all converted to hot-water radiant heat instead of steam. "They're beautiful and feel like they belong in an old farmhouse," she says.
5. Wood. Reclaimed or distressed wood completes the farmhouse look and, like a claw-foot tub, is practically a prerequisite for the style. It even works for floors, says Suzanne Stern of Our Town Plans, despite the fact that many of her clients initially express concern about water damage. "You're not swimming in there," she says. "Wood is actually a lot tougher than it gets credit for."

The floors here were painted with latex white paint cut in half with water. "The raw wood just soaks it up, and you can still see the wood grain, and the little bit of pigment dampens the yellow of the wood," she says. "It gives it that distressed look."
6. Patinated finishes. When you're imagining what you might see in an old farmhouse, shiny stainless steel shouldn't come to mind. Instead, finishes with an aged look are hallmarks.
Dixon likes to use nickel for faucets when possible, which gives the space a more antique feel. "It patinates and starts to look less refined over time," he says.

Jack had the vanity seen here built new, but then painted it a charming blue that she distressed. "I try not to do anything too contrived," she says. "Just subtle touches of everything so it doesn't look like it's trying too hard."
7. Vintage lighting. Fixtures made from repurposed pieces or old gas versions that have been electrified, or anything that looks like it might have come from a barn is key to lighting a farmhouse bathroom. "In a small space, everything you put in is important," Stern says. "For fixtures I either don't want to see it at all or want it to be something that's pleasing. The lights can be like little jewels. That's very important."
8. Avoid clichés. As with with most styles, the trick is how to get a look without making it hokey. That's what Kandler sought to do in this new Los Angeles bathroom.

To give the space some character, she played with traditional elements you might find in a farmhouse, like checkered floors, incorporating them in a new way. "It's a checkered floor, but it's made out of concrete and not in traditional colors," she says. "I didn't want it to feel too much like a cow could just wander in at any moment. It had to be a little more sophisticated."

Notice how she, too, played with the ceiling lines to make it look like an allocated spare room. "That ceiling pitch above the sink isn't really the actual roofline," she says. "I just wanted it to feel more like a dormer to give it that farm feeling. Little things like that go a long way."